Published : January 5, 2021 - 0 Comments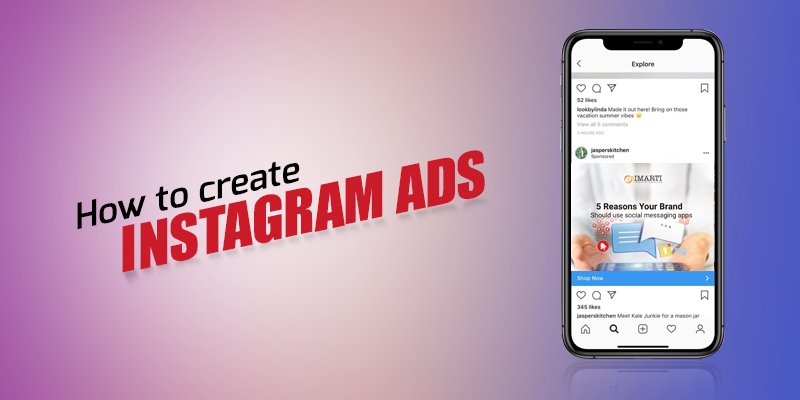 Instagram is one of the most popular social media apps around the globe. Apart from being a photo and video sharing social network it is also a great platform for advertisements and marketing. Engagement rates are high on Instagram and marketers have an audience of 5 million active users every day. This popular app works on followers, likes and comments and offers various advertising options. Marketing and advertisement have huge scope on Instagram, using the right campaigns and strategies will ensure rise in sales and customer reach.
Before creating Instagram advertisements, its important to know the types of Instagram Ads.
Types of advertisements on Instagram-
Instagram story Ads- These appear on users stories and are cover the entire screen.
Photo Ads- Makes use of captivating images with catchy captions.
Video ads- These are short videos which appear on Instagram feed and stories.
Carousel Ads- These are ads in the form of Insta posts. Slideshow of images and videos is used along with call to action button.
Collection Ads- Uses videos and images. Users can directly purchase a product from the ad.
Brands can look forward to advertising their products and services by keeping these tips in mind while creating Instagram ads-
Audience- Before posting any content and advertisement on social media, it is important to recognize the target audience. An advertisement can only work when the target audience can relate to it. For this its necessary to create ads around them and the goals the brand wants to achieve.
Text- Instagram ad captions can't be too long. It's necessary to have a limited character and word limit. Brands should try and create catchy and unique ad captions which incite the audience to watch the ad.
Hashtags- Master the hashtag game. Brands should not underestimate the power of hashtags on Instagram. Various studies have revealed that use hashtag increases engagement and brand awareness. Using the most relevant hashtags which reaches to the right customer and are applicable for the ad.
Consistency- Try to have a unique identity for your brand's advertisements and posts. The style and the format in which ads are designed should represent the brand. This keeps audience connected and they easily retain brand image.
Creativity- Show creativity in different ad campaigns. At the same time its also useful to keep versatility in different ads of the same campaign. Experiment with text, visuals and format. Put different images, keep distinct in captions and posts content.
The Bottom Line
Instagram marketing and advertising gets easier if brands take que from the above- mentioned tips. Advertising is a great tool for lead generation and increased sales. Instagram advertising has huge potential and brands should definitely know to create compelling ads in order to grab users attention. With large number of audience, Instagram also gives brands variety of options to create distinct ads depending on their budget. From major brands to startup, all can benefit from advertising on Instagram. Know the right techniques and tap into the creative world of Instagram.
Continue reading