Published : January 5, 2021 - 0 Comments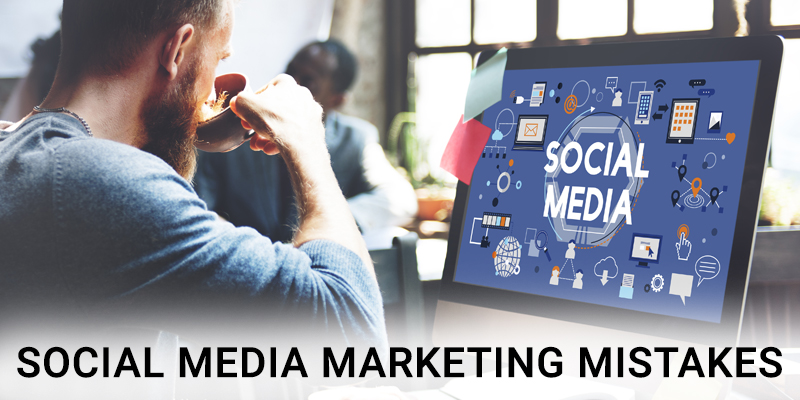 Today in the world of digital communication, social media is the most essential tool for marketing. Big or small, all types of brands need social media presence to boost their customer reach and sales. A well planned social media marketing campaign plays a significant role in making a brand popular and gives marketers the opportunity to understand what the customers think of the brand and what they really expect. Even though there are so many tricks and tactics which can help to manage social media marketing, many brands fail to tap into it. The failure of such campaigns is a result of some common mistakes brands make when they plan and execute a social media campaign.
Here Are Some Social Media Marketing Mistakes To Avoid-
Not planning a social media strategy- The prime step to social media marketing is having a plan of action. Most brands don't give importance to social media marketing planning and hence fail. Like any other marketing campaign, social media marketing also requires concrete planning. Things to keep in mind when working on a plan are, target audience, goals to be achieved, budget, relevant content, posts and many more. Ignoring the basis of marketing will put all other efforts in vain.
Neglecting negative feedback-  Every brand acknowledges positive feedback and shares them. However, they tend to avoid negative feedback. Building trust and connection with consumers can only happen when their concerns and complaints are addressed. Negative feedback gives an idea about what customers expect and how the quality and services can be improved. There should be proper customer care services and brand should be responsive to them.
Too much self-promotion- Brand promotion on social media should be subtle. People repel to brands which advertise their products too much. Try to be more interactive, give human touch to your social media campaigns, talk about trends and in between do brand promotion.
Treating all platforms the same- One of the most common mistakes that brands make is treating all social media platforms same. Content for each should be suitable to the kind of audience it caters and what purpose the platform fulfills the best. Be creative and don't copy paste same content and post on every platform. Have a social media team which can create platform specific content.
Having too many social media accounts- Less is more. Try not to function on too many social media apps at the same time. Create accounts on platforms which serve the brand's purpose and are suitable for marketing. Having too many accounts makes it difficult to manage and leads to inconsistent and mediocre content. Decide which are the best and work on those social media platforms.
Posting low quality content- Content is the head of social media marketing. Create relevant content which is unique and interesting. High quality content catches attention. Brands should avoid low quality images, content with mistakes, false facts, copied and mediocre content. Such content brings down brand reputation.
The Bottom Line
The right and efficient use of social media can reap the best results for a brand. Having a well-structured and researched social media plan eases the task of marketing and boosts up brand reach. Treat social media marketing with the same importance like any other marketing process and make complete use of the endless opportunities social media has to provide.
Continue reading